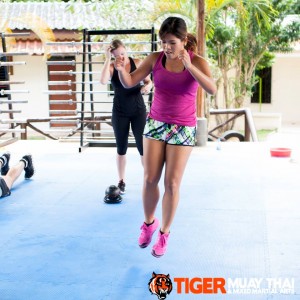 Originally hired to handle Phuket Fit's guest relations, Joey was promoted to Customer Service Manager in April of this year. Born in the Philippines to a Thai mother, Joey moved to Thailand almost six years ago. Having previously worked in public relations and the arts, Joey's knowledge base is wide. She describes her main job duty as making sure that there are way more smiles at camp, then there are frowns. Joey's favorite exercise is doing pad work with the Muay Thai trainers and her least favorite exercises are pull-ups and running.
 How do you spend the average workday at Phuket Fit?
All of us in the office do a little bit of everything. We have specific roles to fill but we all help each other out to ensure a positive guest experience. I spend my mornings responding to Phuket Fit email, fan page questions and forum queries. I send out photographs, testimonials and updates from the camp to our Director of Communication. I also do a bit of graphic design work and help our Front Desk Officers in providing information and assisting them in case of guest grievances. That's just a few of my duties. You might also recognize my voice on the intercom system announcing upcoming events, fights and fun trips around Phuket.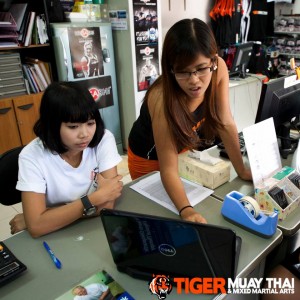 What did you do prior to working at Phuket Fit?
I used to work for this PR firm in Bangkok and also worked as an Assistant Art Teacher at Ruamrudee International School of Thailand.
How did you first find out about Phuket Fit?
I had just received my degree and was looking to travel before hunting for a job. A good friend of mine suggested going to a Muay Thai Camp. I searched online for camps and saw Phuket Fit's website. I thought it was the best one since it not only offered Muay Thai but also Fitness Classes.  I can honestly say that it was a life changing experience. I've attained a great level of fitness and have made lifelong friends.
What kind of questions do you frequently get from guests?
"Will I really lose weight here?" and the answer is definitely yes! I have seen it happen so many times and that's what makes the job so gratifying. I love seeing our guests reach their goals whether it is losing weight or learning a new sport. I've seen guest start with almost nothing and transform to something really great. They become more optimistic and confident.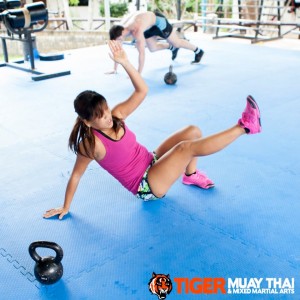 What do you think surprises guests the most once they get to Phuket Fit?
How big the camp is, but also how supportive everyone is of each other. First time guests also get a bit intimidated by the number of fit and "ripped" individuals in camp, but they all had to start somewhere. It shouldn't intimidate you, because it should inspire you!
What advice would you give someone whos preparing to train at Phuket Fit?
You have to really want it… the positive change. A proper mental attitude is more important than just having the physical capacity to do things.
Have any weight loss tips that youd like to share for people struggling with weight loss?
There's a reason why a cheat day is not in the plural form "cheat days". Eat right and get good food in you. Diet plays a key role in weight loss.
Whats one mistake you see people make when trying to lose weight while at Phuket Fit?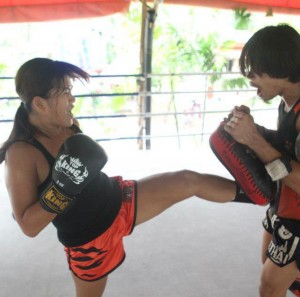 Some people will over-train and then eat high-calorie meals. Calories are the basic unit of energy and it is essential to maintain the bodys vital functions by getting nutrition from the right sources. It's not hard to figure out the difference between a cheat meal and a healthy meal.
Do you have any other advice for someone who might be looking at TMT for fitness or weight loss?
You have to take the leap. Help yourself and we will help you. Invest your time at Phuket Fit and we will give you the best return on your investment.  A healthier you and a whole lot of fun!